Bifties Gifts
The Milestone Master
$55
This carefully curated gift box is designed to commemorate those significant moments that mark personal achievements, growth, and special occasions along life's journey.
Embrace the timeless charm of our Japanese Retro Mug, meticulously crafted with intricate designs and exquisite details. This stunning mug not only captures the essence of vintage aesthetics but also adds a touch of elegance to every sip. Let its smooth ceramic surface and comfortable handle enhance the pleasure of savoring a warm beverage.
Enhance the experience of tea time with our Tea Infuser, a versatile tool that allows you to steep your favorite loose-leaf teas and infusions to perfection. Its fine mesh design ensures optimal flavor extraction, creating a rich and delightful tea experience. Indulge in moments of tranquility and contemplation as you enjoy the soothing aromas and flavors of a perfectly brewed cup of tea.
But this milestone gift box is more than just a collection of exquisite items; it's a celebration of personal growth, achievements, and the journey traveled. It's a reminder to pause, reflect, and savor the milestones reached, big or small, that shape our lives and make them extraordinary.
Whether you're commemorating a graduation, a promotion, a birthday, or any other significant milestone, our Milestone Master Gift Box is the perfect way to honor and celebrate those special moments. It's a thoughtful and timeless gesture that conveys recognition, appreciation, and a desire to share in the joy of accomplishment.
Order now and let our Milestone Master Gift Box become a cherished part of those memorable milestones, elevating the experience and creating lasting memories. Celebrate the journey, toast to success, and embrace the beauty of each milestone along the way.
Box contains:
Retro Japanese Striped cup
Tea Infuser
Sip Sip Hooray card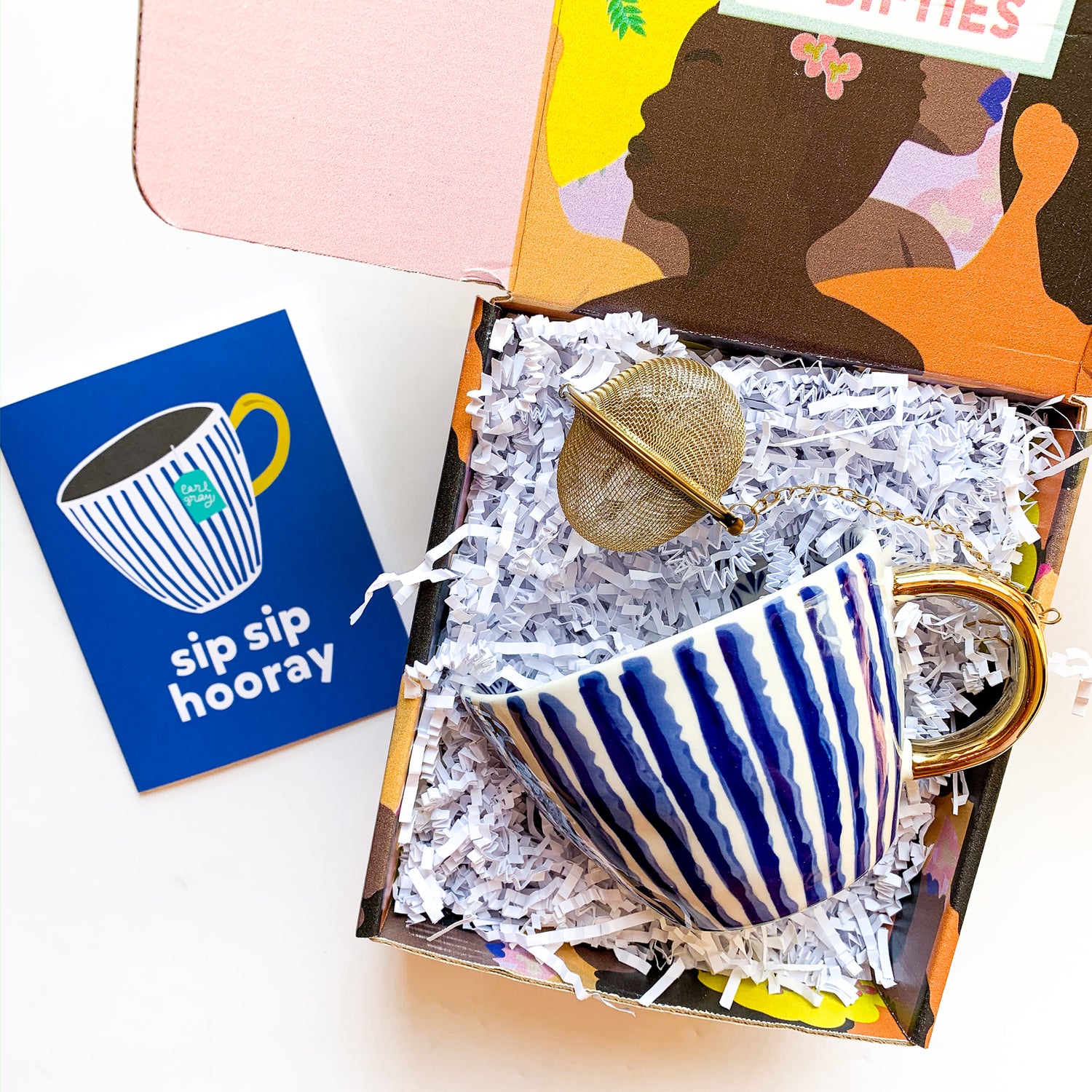 Perfect way to honor significant accomplishments
Whether you're commemorating a graduation, a promotion, a birthday, or any other significant milestone, our Milestone Master Gift Box is the perfect way to honor and celebrate those special moments